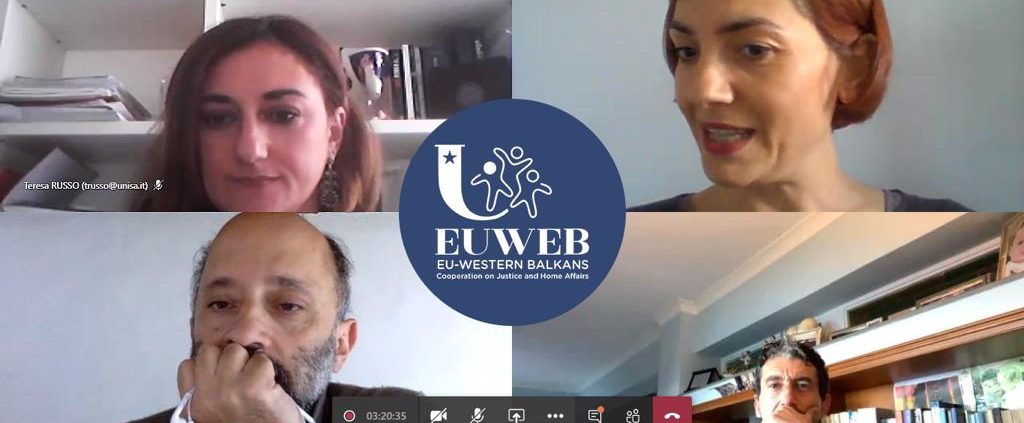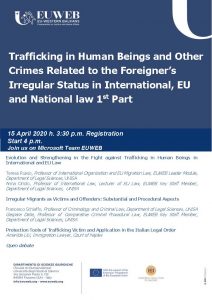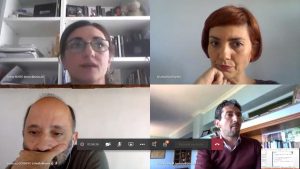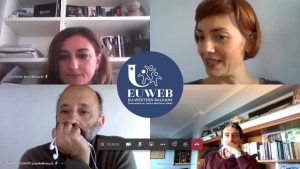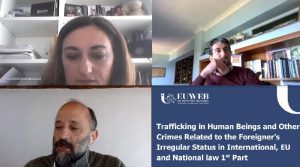 Today's Course focused on the terrible crime of trafficking in human beings, underlining all its critical issues, such as primarily the configuration of the crime.
The Speeches of the EUWEB Leader Module, Prof. Teresa Russo and the EUWEB Key Staff Member, Anna Oriolo highlighted the multiplicity of international, European and EU sources that helped define the type of crime, as well as how this crime still produces great concern in the Western Balkans Countries.
Then, Francesco Schiaffo, Professor of Criminology and Criminal Law, Department of Legal Sciences (UNISA), addressed the delicate issue of the migrant as a victim and as the author of the crime by questioning some aspects of Italian substantive law, while Prof. Gaspare Dalia, EUWEB Key Staff Member was concerned with the procedural aspects of the proof of crimes.
Finally, Amarilda Lici, Immigration Lawyer, Court of Naples, dealt with the protection tools of the trafficking victim through the analysis of some practical cases which confirmed on one hand the sad reality of trafficking and on the other hand the difficult prosecution of this crime in trials.
The conclusive discussion allowed for a broad debate on the political, economic and social issues behind the trafficking in human beings.
For the contents of the lectures, see the section The Module/Didactic Materials on our home page.
https://www.euweb.org/wp-content/uploads/2020/04/WhatsApp-Image-2020-04-15-at-21.07.15.jpeg
576
1024
Teresa Russo
https://www.euweb.org/wp-content/uploads/2019/09/marchio-300x91.jpg
Teresa Russo
2020-04-22 10:27:29
2020-07-27 19:48:10
Trafficking in Human Beings and Other Crimes related to the Foreigner's Irregular Status in International, EU and national Law 15 April 2020 – 1st Part