EUWEB is delighted to announce the publication of Law, Cultural Studies and the "Burqa Ban" Trend: An Interdisciplinary Handbook, edited by Anna Oriolo, Professor of International Law, Department of Legal Sciences, University of Salerno (EUWEB Key Teacher) & Anja Matwijkiw, Professor of Professional Ethics & Human Rights, Department of Philosophy, Indiana University Northwest (USA).
This Book is inserted among the outputs stemming from EUWEB Module's efforts to study and understand the protection of fundamental rights in Europe, thanks also to the contributions of the EUWEB Staff, Prof. Teresa Russo (EUWEB Module's Leader), Profs. Anna Oriolo and Gaspare Dalia (EUWEB Key Teachers), with Stefano Busillo and Emanuele Vannata (EUWEB Legal Observatory Senior Members) as editorial assistants.
In particular, the volume offers an in-depth account of the "burqa ban" trend, displaying both originality and an interdisciplinary approach. It allows to encompass, in the very same work, law, ethics, gender studies, philosophy, political science and religion and it was deliberately chosen to prompt people to "think outside the box".
The handbook features authors who are prominent voices, and, in most instances, are both nationally and internationally recognized on the basis of the pioneering paths they have followed in their individual or collective research.
With contributions by Sarah Ali (Women in Dialogue), Erik Daniel Baldwin (Indiana University Northwest), Kerstin Bree Carlson (Roskilde University), Fatiha Chakir (Il mondo a colori), Giuseppe D'Angelo (University of Salerno), Bice Della Piana (University of Salerno), Gaspare Dalia (University of Salerno), Rt Hon Lady Hale DBE (formerly Supreme Court of the United Kingdom), Shino Ibold (University of Hamburg), Nina Jakku (Lund University), Ryan Long (Thomas Jefferson University), Willie Mack (Veterans Assistance Commission of Cook County), Kamal Makili-Aliyev (Malmö University), Jill Marshall (University of London), Anja Matwijkiw (Indiana University Northwest), Bronik Matwijkiw (Southeast Missouri State University), Stefan Oeter (University of Hamburg), Anna Oriolo (University of Salerno), Sherene H. Razack (University of California at Los Angeles), Teresa Russo (University of Salerno), Robin May Schott (Danish Institute for International Studies) and Jacob Livingston Slosser (University of Copenhagen).
Find out more at https://intersentia.com/en/law-cultural-studies-and-the-burqa-ban-trend.html.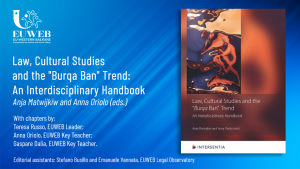 https://www.euweb.org/wp-content/uploads/2021/06/3.png
540
960
Teresa Russo
https://www.euweb.org/wp-content/uploads/2019/09/marchio-300x91.jpg
Teresa Russo
2021-06-08 13:33:54
2021-06-08 13:34:24
Law, Cultural Studies and the "Burqa Ban" Trend: An Interdisciplinary Handbook