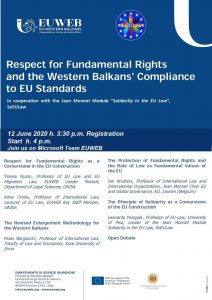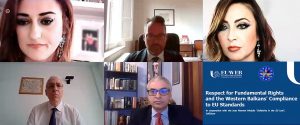 On 12 June 2020 Teresa Russo and Anna Oriolo, Leader and Key Staff Member of the EUWEB Module addressed the topic of the "Respect for Fundamental Rights and the Western Balkans' Compliance to EU Standards" in collaboration with the Jean Monnet Module "Solidarity in the EU Law ", SoEULaw.
After the introduction on Respect for Fundamental Rights as a Cornerstone in the EU Construction by the EUWEB Staff, Paolo Bargiacchi, Professor of International Law, Faculty of Law and Economics of the University "Kore" of Enna dealt with "the Revised Enlargement Methodology for the Western Balkans". Then, Jan Wouters, Professor of International Law and International Organizations, Jean Monnet Chair EU and Global Governance, KU, Leuven (Belgium) focused on the issue of Protection of Fundamental Rights and the Rule of Law as Fundamental Values ​​of the EU. Finally, Leonardo Pasquali, Professor of EU Law, University of Pisa and Leader of the Jean Monnet Module "Solidarity in the EU Law", SoEULaw, examined the Principle of Solidarity as a Cornerstone of the EU Construction.
The open debate stressed the future enlargements of the EU and the future scenarios for a credible solidarity.
For the contents of the lectures, see the section The Module/Didactic Materials on our home page.
https://www.euweb.org/wp-content/uploads/2020/06/WhatsApp-Image-2020-06-12-at-19.53.08.jpeg
534
1285
Teresa Russo
https://www.euweb.org/wp-content/uploads/2019/09/marchio-300x91.jpg
Teresa Russo
2020-06-16 19:58:23
2020-07-27 19:42:13
Respect for Fundamental Rights and the Western Balkans' Compliance to EU Standards – 12 June 2020