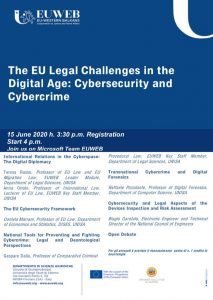 Monday 15 June 2020 Teresa Russo, Anna Oriolo and Gaspare Dalia, EUWEB Leader and Key Staff Members examined the current and complex issue of the EU Legal Challenges in the Digital Age: Cybersecurity and Cybercrime.
After the introduction by Anna Oriolo and Teresa Russo concerning International Relations in the Cyberspace: The Digital Diplomacy, Daniela Marrani, Professor of European Union Law, Department of Economic and Statistical Sciences, DISES, UNISA dealt with the EU Cybersecurity Framework , while Gaspare Dalia, EUWEB Key Staff Member focussed on the National Tools for Preventing and Fighting Cybercrime: Legal and Deontological Perspectives which also permitted the participating lawyers to be awarded a training credit in deontology.
Finally, Raffaele Pizzolante, Professor of Digital Forensics, Department of Computer Science, UNISA analyzed the issue of Transnational Cybercrime and Digital Forensics and Biagio Garofalo, Electronic Engineer and Technical Director of the National Council of Engineers explained the connections between Cybersecurity and Legal Aspects of the Devices Inspection and Risk Assessment.
The open debate highlighted the need of balancing the network security with personal data protection
For the contents of the lectures, see the section The Module/Didactic Materials on our home page.
https://www.euweb.org/wp-content/uploads/2020/06/WhatsApp-Image-2020-06-15-at-18.09.23.jpeg
677
1299
Teresa Russo
https://www.euweb.org/wp-content/uploads/2019/09/marchio-300x91.jpg
Teresa Russo
2020-06-16 21:08:21
2022-03-24 10:27:12
The EU Legal Challenges in the Digital Age: Cybersecurity and Cybercrime – 15 June 2020