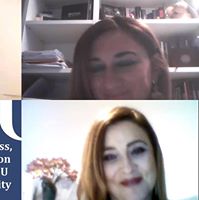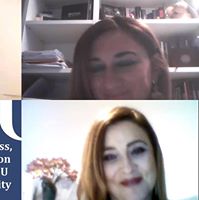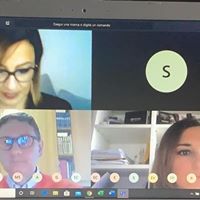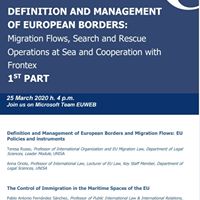 EUWEB Staff is very delight for the authoritative participation of Pablo Antonio Fernández Sánchez, Professor of Public International Law & International Relations, Faculty of Law, University of Seville (Spain)  in the works of the Module.
His Lecture on "The Control of the Immigration in the Maritime Spaces of the EU" received a great appreciation from the EUWEB Module's participants, because it underlined how the regulation of the migratory control in maritime spaces is based on three overlapping legal frameworks: the law of the sea norms, maritime rescue norms and human rights norms.
Furthermore, the speeches of Teresa Russo, Professor of International Organization and EU Migration Law, Department of Legal Sciences, Leader Module, UNISA and Anna Oriolo, Professor of International Law, Lecturer of EU Law, Key Staff Member, Department of Legal Sciences, UNISA on the "Definition and Management of European Borders and Migration Flows: EU Policies and instruments" explained the historical evolution of EU immigration policy, as well as the EU external border's checks mechanisms and Agencies in the light of the Integrated Border Management notion.
For the contents of the lectures, see the section Activities/Training course on our home page.
https://www.euweb.org/wp-content/uploads/2020/03/Foto1_n.jpg
200
199
Teresa Russo
https://www.euweb.org/wp-content/uploads/2019/09/marchio-300x91.jpg
Teresa Russo
2020-03-28 20:13:22
2020-04-06 19:51:16
Definition and Management of European Borders : Migration Flows, Search and Rescue Operations at Sea and Cooperation with Frontex 1st PART 25 March 2020