On 15th October 2020 from 9.00 am to 10.30 am, the Jean Monnet Modules EUWEB and SOEULAW celebrated #Erasmusplusdays with a webinar organised in partnership. The event aimed to increase dialogue between the two Jean Monnet communities sharing ideas, experiences and best practices.
The Key Staff Members of the
#EUWEB
and
#SoEULaw
Modules, with the participation of some partners, young researchers and students, shared and discussed their ideas, experiences and best practices for further common goals of cooperation.
We confirmed our commitment to promoting excellence in EU and international studies by working on an even more amazing second edition.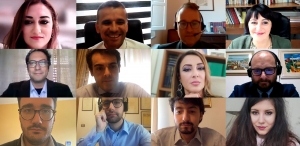 https://www.euweb.org/wp-content/uploads/2020/10/EUWEB-SOEULAW.jpg
1654
2339
Teresa Russo
https://www.euweb.org/wp-content/uploads/2019/09/marchio-300x91.jpg
Teresa Russo
2020-10-11 11:34:29
2020-11-03 13:07:24
Sharing Ideas, Experiences and Best Practices in Jean Monnet Modules: EUWEB and SoEULaw Promote Excellence in EU and International Studies 15th October 2020