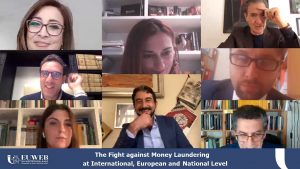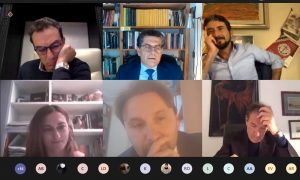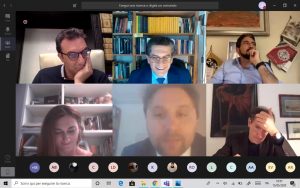 EUWEB Key Staff Members, Teresa Russo, Anna Oriolo and Gaspare Dalia discussed the issues concerning "The Fight against Money Laundering at International, European and National Level" with the participation of distinguished speakers.
Carlo Longobardo, Professor of Criminal Law, Faculty of Law of the University of Naples "Federico II", provided a general overview of the topic between dogmatics and criminal politics. Andrea Castaldo, Lawyer and Full Professor of Criminal Law, Department of Legal Sciences, UNISA then dealt with the leading cases in the field of money laundering and self-money laudering, while Cecchino Cacciatore, criminal lawyer of the Court of Salerno, addressed the issue of the money laundering and the financing of terrorism. Ersi Bozheku, Lawyer and Associate Professor of Criminal Law of the State University of Tirana (Albania), as well as Executive Director of the CESIAL analyzed the discrepancies between the legislative provisions and the practice of the anti-money laundering legislation in Albania.
The work ended with the planned intervention on bitcoins and the money laundering of Alessandra Rea, Trainee Lawyer of the Forum of Naples, and with the debate between the speakers and the participants in the Module.
For the contents of the lectures, see the section The Module/Didactic Materials on our home page.
https://www.euweb.org/wp-content/uploads/2020/05/WhatsApp-Image-2020-05-15-at-21.07.30-1.jpeg
768
1366
Teresa Russo
https://www.euweb.org/wp-content/uploads/2019/09/marchio-300x91.jpg
Teresa Russo
2020-05-24 11:13:48
2020-07-27 19:44:05
The Fight against Money Laundering at International, European and National Level – 15 May 2020